Resonance Test Gauge (RTG-1)
Fast digital lab testing system...
     Get results in just seconds!
The Resonance Test Gauge [RTG-1] system is typically used to measure the dynamic Young's modulus (E), shear modulus (G) and Poisson's ratio (ν) of asphalt, concrete, rock, masonry, carbon and other cylinder, beam, and core-shaped specimens. This system meets the ASTM C215 standard for resonance testing of concrete for dynamic properties and freeze-thaw durability testing (ASTM C666). A sample spreadsheet [+] for all moduli calculations for longitudinal, flexural and torsional tests is included in this package.
The RTG-1 system must be used with a Windows 7-10 device running Olson Instruments' RTG software. The computer or tablet is supplied by the user.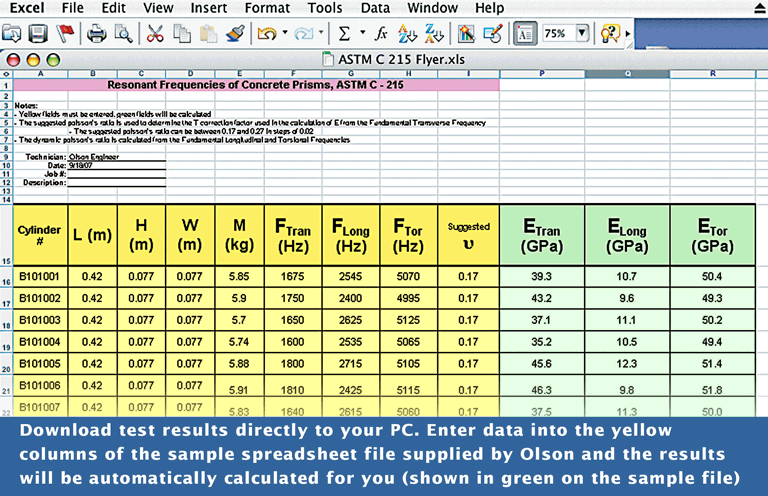 Training
Hands-on training classes are available for all of our NDT test method systems and platforms is available at our Wheat Ridge, Colorado (USA) location, which is a suburb located approximately 15 minutes northwest of downtown Denver. Training may be available at your location by one of our agents by special arrangement.
(photo gallery)
Scroll down for a list of Features & Specifications.
NOTE: Resonance testing is available as an add-on for the NDE 360 platform.
Contact Olson Instruments if you need more information on any of our products. Call our toll free number at 1-888-423-1214 or email us at:
Materials Tested:
Asphalt
Carbon & Graphite
Ceramics
Concrete
Masonry
Stone
Rock
Test For:
Poisson's ratio
Shear Modulus
Young's Modulus
Key Features
| | |
| --- | --- |
| Accurate results in seconds! | Olson's RTG software for data acquisition and analysis |
| Learning curve: less than 10 minutes | Switch between English and Metric units |
| Quick & Easy Set Up: uses sponge rubber mat instead of metal test frame (per ASTM C215) | Full user selection of gains and units |
| Real-time waveform display while testing | Receiver: 1 accelerometer, 10 mV/g |
| Automatic file naming feature | USB powered RTG device with built-in phone plug and BNC connection |
| Automatic frequency calculation | Impact Source: 2 oz. ballpeen hammer |
Specifications
| | |
| --- | --- |
| Sampling Rate: 45,455 samples/second | Accelerometer Flat Frequency Response Measurement Range: 20,000 Hz |
| Number of Samples Acquired Per Test: 1024 samples | Nyquist Frequency: 22,727 Hz |
| Frequency Resolution: 44.39 Hz | ASTM C215 Minimum Required Frequency: 20,000 Hz |